Books

UNDERCOVER: Crime Shorts
I am very excited to announce that my very first collection of
Crime Short Stories
is available as a paperback and eBook from May 2019
on most digital platforms:
You can subscribe to discover more books from me at:
https://books2read.com/author/jane-risdon/subscribe/1/128075/
Endorsement by
Roger A Price: Former Detective and Author of Nemesis, Vengeance and Hidden, says:
Undercover – crime shorts; is a wonderfully satisfying anthology of six short stories which transcend above the crime fiction genre providing a ripping yarn irrespective of the reader's crime fiction preference.
Jane Risdon has cleverly stitched together a mix of tales to suit all fans

of the genre.
UNDERCOVER: Crime Shorts
published by Plaisted Publishing House
The artwork layout is by Mara Reitsma.
I also have a fab Undercover: Crime Shorts mug available to purchase. Ask me for details.

Only One Woman May 2018
ONLY ONE WOMAN
Christina Jones and Jane Risdon
published by
Headline Accent
May 2018
Available in Paperback from Waterstones Branches (most countries) and good indie bookstores, and on most digital platforms also in eBook for Kindle, Tablet and Phone on most digital platforms including Amazon.
ISBN: 9781783757312
UK/USA/Australia and most countries
Our foreword was written by Iconic rocker Graham Bonnet
Singer with Rainbow, Alcatraz, Michel Schenker Group, and his own Graham Bonnet Band as well as many other legendary bands.
Graham also sang (with cousin Trevor Gordon) on the Bee Gees-penned hit in 1968 for which our novel is named:
Only One Woman
Reading his foreword is fascinating – how he met The Bee Gees and how writing Only One Woman came about, leading to the start of his long and successful career.
One boy, two girls, and a journey through the heady, mad, rock scene of 1968/1969
June 1968: Renza is preparing to leave school – and England.
Her family is moving to overseas and she has mixed feelings about going- until four gorgeous boys who make up the rock group
Narnia's Children
move in next door.

She falls head over heels for the lead guitarist, Scott, but after a summer of love together, Renza has to go…
December 1968: Stella meets Scott at a local dance where Narnia's Children are playing.
Scott's the most beautiful boy she's ever seen, and she falls for him hard…
As the colourful, exciting, final years of the sixties dawns, both Renza and Stella realise that for Scott, there can be
Only One Woman
Only One Woman has a YouTube playlist each for Renza and Stella
Since 2011 I have contributed to various anthologies of short stories, most in aid of a variety of charities. All but two of these anthologies are still available and funds still going (in full) to the charities. I've listed the charities with the anthologies in case you are interested in supporting them.
Victory 75: celebrating the 75th V.E-Day anniversary WW2
A collection of short stories written and published in aid of Veteran's Charities including SSAFA.
Available in Paperback and eBook from most digital platforms including Amazon.
While each story carries a personal dedication, each is written with respect and gratitude to all those who gave their lives for our liberty and freedoms.Help us to help them.Contributions to Veterans Charities.
CANADA https://www.amazon.ca/Victory-75-Celebrating-VE-Day-anniversary/dp/B089TV18LS
AUSTRALIA https://www.amazon.com.au/Victory-75-Celebrating-VE-Day-anniversary/dp/B089TV18LS
USA https://www.amazon.com/Victory-75-Celebrating-VE-Day-anniversary/dp/B089TV18LS
When Stars Will Shine: Helping Heroes One Page at a Time 2019
In aid of Help4Heroes raising funds for our British Armed Forces.
Available in Paperback and eBook Publication day 9th December 2019
I've contributed short stories to several Ghostly Writes Anthologies 2018, 2017 & 2016
Paperbacks and eBooks from Plaisted Publishing House
check these out on Amazon and other digital platforms via books2read.com/u/mlegN7
They are award-winning and have been Amazon best-sellers, the e-Books are free to read.
FREE download from all good sites including Amazon, Kobo and iTunes
The eBook edition is FREE and the Paperback edition is available for purchase via these sites:
http://www.barnesandnoble.com/w/books/1125012369?ean=2940153508849
https://store.kobobooks.com/en-us/ebook/ghostly-writes-anthology-2016
http://www.inktera.com/store/title/53129dd2-5565-4fd7-b431-472696191264
https://www.24symbols.com/book/x/x/x?id=1730315
https://plaistedpublishinghouse.wordpress.com/2016/10/20/haunting-you-this-hallows-eve/
Christmas Capers 2017 Anthology
This is a writer's group I belong too. We published this anthology in aid of the Ben Kinsella Knife Crime campaign. I have two stories featured.
Stab in the Dark Writers Circle
Amazon Best Seller
December 2017
Another Anthology in which I have contributed a short story
Published September 2017:
Midsummer Anthology 2017 –
Published by Jara23 Publishing it is FREE to READ.
https://www.smashwords.com/books/view/743940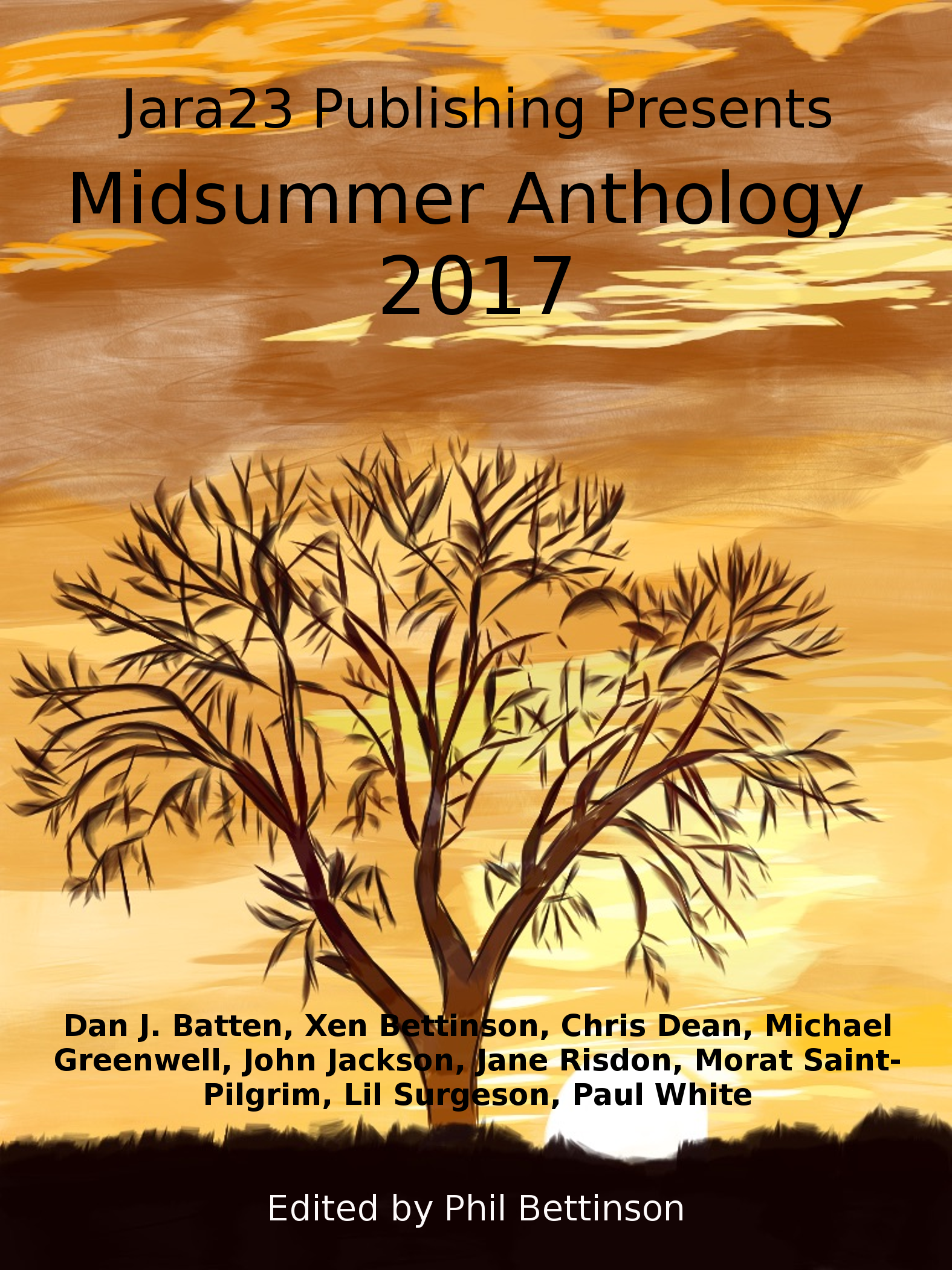 Nominated for Summer Indie Book Awards 2017 Cons, Dames and G-Men
Published June 2017:
Another anthology from the Stab in the Dark Writer's Group
A Stab in the Dark: Cons, Dames and G-Men
My first publications for Headline Accent prior to Only One Woman.
featuring one of my short stories
Wishing on a Star
Headline Accent 2014
Paperback & eBook
Shiver
Headline Accent 2014
Another Headline Accent Anthology featuring one of my short stories
eBook only
http://www.amazon.com/Shiver-collection-halloween-stories-best-selling-ebook/dp/B00O9VKGJG/ 
http://t.co/qw98OdKs9C
In A Word: Murder
Published by M. Kinberg 2013
With two of my short stories in aid of The Princess Alice Hospice, England, in memory of Maxine Clarke, editor, author and blogger.
Madame Movara's Tales of Terror
I have a short story included.
In Paperback and as an eBook published by Willow Creek Publishing 2016
Published 20th October 2016 and available only until January 2017 in aid of the Children's' Charity Save the Children.
Such a fab anthology fully illustrated throughout in colour and with three editions to pick from: hardback and two paperbacks, all with different covers, as well as an eBook edition.
The anthology was published in aid of The Children's Charity, Save the Children. Hammer Horror movie icon Caroline Munro wrote the foreword.
Sadly this anthology is no longer in print.
from http://www.Lulu.com
available in Hardback illustrated throughout
http://www.lulu.com/shop/various-authors/madame-movaras-tales-of-terror/hardcover/product-22894139.html
and
Paperback with a choice of two covers:
Spider's Webb edition:
http://www.lulu.com/shop/various-authors/madame-movaras-tales-of-terror/paperback/product-22894121.html
and
Scream edition:
http://www.lulu.com/shop/various-authors/madame-movaras-tales-of-terror/paperback/product-22894145.html
Madame Movara's Tales of Terror
and this anthology features many successful authors.
Cult Hammer Horror Actress
Caroline Munro
has written the foreword.
http://www.amazon.co.uk/-/e/B00I3GJ2Y8
I Am Woman (vol 1) Anthology FCN Publishing 2012
In aid of Breakthrough, Women's Aid and Women for Women charities
I have a short story included. This is an eBook only.
Telling Tales Anthology by Writers for Welfare
Moon Works Publishing 2011
In aid of The Norfolk Hospice, England.
Telling Tales (MoonWorks/Lulu.com) is no longer available in Print or eBook.
You can find other short stories and pieces of flash fiction here on my blog and also published by Morgen Bailey on her Writer Blog.
If you are so kind as to purchase any of the books in which I am included, do please let me know and leave a comment on GoodReads, Amazon, Lulu, Barnes & Noble, Simon & Schuster and my Amazon page . It would be terrific and much appreciated. So far I have received some lovely praise and 5* reviews for which I am incredibly appreciative. It's so encouraging. Thanks so much.
Jane Risdon xxxx